There is a sudden surge of interest in the actress Zhang Yu lately. Although actress Zhang Yu (张瑜) was famous in the 80's of China and no doubt a screen lover of many Chinese young men of the time, who subsequently came back to the screen after marriage, she's not the person the search is aimed for.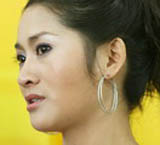 The person at the center of attention is the actress Zhang Yu (张钰), an actress who is, let me put it this way, still looking for her first breakthrough. Since 2000, she's appeared in several TV series playing minor part. Not many people noticed her, until now. She claimed recently in her blog that several persons in the industry demand "sex for part" and their promises have never materialised after the sex. To prove her point, she did the fasionable thing. She posted a couple of 'sex videos' on the internet, along with 'a letter to the nation'. And she promised there are more.
What's interesing is that in the YouTube age, the preceived victims of such scandals now can fight back with the shaky, blurred and pixelated videos, a suitable weapon for the industry. For Zhang Yu (张钰), she is having her 15 minutes fame now. There is even a blog entry dedicated to document her appearance in every TV series she's in. A sort of fan site really. Whether she will get a major part in a movie/TV series after all these is quite doubtful.
5 Responses to "Who's Zhang Yu?"
I have no doubt that there are some directors who operate like this and I congratulate Zhang Yu for having the nerve to expose them. There was also a similar scandal in the Indian Film industry and the same kind of thing is also part of the dubious legend of Hollywood. I guess directors are powerful people and it is inevitable that some of them will abuse those powers. I hope that all efforts to use and abuse actresses are exposed and punished.

I read an interview of Zhang Yu, and it becomes clear in the interview that this woman does not think of herself as a saint. She openly admits that she is willing to do what she has to in order to obtain her objectives. She responds to intimations of shamelessness and of having no morality by stating that she at least has the morality and bravery to admit what she has done, where the men involved in this scandal, openly caught on videotape, have so little morality that they will lie even though it is right in front of everyone's eyes, and the cowardess to deny that it even happened. She is not really even arguing that she is more moral than the men she slept with. She is arguing against the double standard - which makes the men in the industry able to demand sex from women at all. The film industry is not supposed to be a prostitution ring - if it were supposed to be that way, it would have been closed down already, for prostitution is illegal. The men with the power to make or break actress' careers are treating it as a prostitution ring because they can, because everyone turns their heads the other way and refuses to shame the men who are not only involved with, but in control of, this sexual exploitation.

these men should be killed byt the chinese government for there disrespect for these women an there familys and for the people of china. yes i'm an american and it sould never happen in any country that a woman or man should have to do such things to get a part in a movie. These men suck and i think they should be killed cuz they are usless

The present movie circle is full of lies, sex and dirty stories. I am tired of it.

on 16 Mar 2010 at 12:32 am Bohn

Oi! That was brilliant! Bloody brilliant, in fact! Not often I find a blurb worth remarking upon, but this one was worth it. Good job, lad!

The Bean
Get a Console Game or Cash, Your Choice. 100% Free.
Leave a Reply