How is Your Fish Today?
UK 2006 In Putonghua with English subtitles
director: Guo Xiaolu
writer: Rao Hui, Guo Xiaolu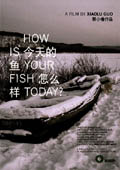 Screenwriter Rao Hui is writing a script for a thrill for a TV movie. His protagonist is a young man of similar age, Lin Hao, who kills his girlfriend in an arguement and flees from his southen hometown, travels across China on train, briefly stops in Beijing and meets a unnamed girl, then sets off towards the northest point of China, a village called Mohe, a place romanticised for this tranquility and beautiful arora in Chinese school textbook. Meanwhile, Rao Hui wanders around his Beijing flat, tries to keep his plant and gold fish alive, drinks tea, and watchs pirated western movie DVDs. While deciding the fate of Lin Hao, he decides to travel to Mohe himself by train. Will Rao Hui, and Lin Hao, find the answer in Mohe?
There are some good set pieces in this pseudo-documentary. The claustrophobic, busy and bustling urban life fits the tone of his voice over quite well, which is strongly in contrast with the lively, but equally harsh life conditions of Mohe. The world of Rao Hui is reflected on Lin Hao. There are also intriguing moments and encounters that could lead the plot to complete different direction. Rao Hui observes people, we observe him through his own creation.
The problem for me is this film's lack of cinematic quality. To put it brutally, The whole experience is like listening to a novel read by the screenwriter while watching the accompaning animated pictures. The audiences are consistly bombarded by Rao Hui's voice over, which insists on explaining everything happening on the screen. Rao Hui and Lin Hao's thoughts are spoon-fed to the audiences almost word by word. It is a little wonder that when the most beautiful moment of movie, the preparing and eating of the fish by the village communist party member Sun Ge and his wife, comes, there is little voice over and dialogue, thankfully.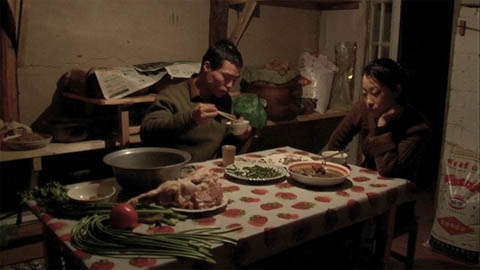 Perhaps the original intention of shooting a documentary film shows it restrains. It seems the director couldn't make her mind on whether to make a documentary of screenwriter Rao Hui, or a full-blow fictional feature. The interview made on the train to Mohe, although funny and touching, is little odd to be inserted here. Although cited as a documentary, this film works very well for me as a fictional film. Rao Hui, who plays himself, is a writer in China and hosts a movie-review TV show. In a only few seconds of his TV show footage, we saw another Rao Hui, chatty and confident. It would be interesting to see the difference between the Rao Hui in this film and Rao Hui as the celerated
writer, or whether the story of Rao Hui told in this film is another fictionalised version, or a script written by Rao Hui. However all these are lost in the voice over.
2006.12.02
19 Responses to "Review: How is Your Fish Today?"
[...] 不好看的 1. How is Your Fish Today? 《今天的鱼怎么样?》 一句话,这不是电影,是配了画面的剧本阅读。 [...]

[...] 《独立报》的书评版编辑Boyd Tonkin采访了新书 A Concise Chinese-English Dictionary for Lovers (《简明中英情人字典》)的作者郭小橹。郭小橹来自中国,是背景电影学院的讲师,同时出版小说和电影理论书籍。2002年来英国,继续拍电影和写书。她的新片《今天的鱼怎们样?》现在正在美国 Sundance Film Festival 上映。 [...]

Looking for Rao Hui ~~

我的美国朋友在做自己的纪录片,关于中国独立电影。他最近看了这幅电影"今天的鱼怎么样?"他很喜欢。他想找电影里的作者/主演饶晖的联系方式。
My American friend was in the Sundance Film Festival and saw this movie. He loved it.
We are doing a project of our own about Chinese Indi. Films. Would very much like to get in touch with the writer and star of this movie: Rao Hui.

So if anyone knows how to reach him through phone or email. Please write to: vykarl@yahoo.com

Thanks!

The best way is probably through Guo Xiaolu, the director. She is probably in Sundance as well. You can go to her website http://www.guoxiaolu.com to find her contact. Alternatively you can find Rao Hui through Chinese Central Academy of Drama website http://www.zhongxi.cn

That is not a film at all. How could it show up at San Francisco International Film festival? I saw this film with my friends, they also didn't make any sense about the film. Only something from the film show some slides about life in China. All the time when I was watching the film I tried to figure out what is the subject talking about. things with this film. Any way I didn't feel good with this film. But need to point out that I am not professional evaluator on the film. Just bring something I want to say. Sorry about that. But good to see more Chinese film shows up at international film festival.

By the way,so curious about the procedure of how to evaluate those films to this festival?

Possibly the way of shooting this movie is not widely acclaimed by the audience.

I would say it is a good try, isn't it? Perhaps it is not acceptable now, but 5 or 10 years later, we will find out its value. And in this field, we need creativity.

真的!

on 18 Mar 2009 at 4:35 am 卫星地图

希望除了"真实"外,还能多一点拍摄技巧和后期处理技巧

This is not a movie. How to appear in the San Francisco International Film Festival? Me and my friends to see this movie, they have no sense of the film. Only a few of the film shows life in China, some of the slides. Every time I watch this movie I want to know what is on this issue. movie things. In any case, I do not think it's a very good movie. But the need to point out that I am not the film professional evaluation. I want to say anything. Sorry about that. But happy to see Chinese Film Festival, International Film Festival.

Heya i am for the primary time here. I came across this board and I find It really useful & it helped me out a lot. I hope to provide one thing back and aid others like you helped me.

Your blog was tweeted by a friend the other day. Decided I'd give it a look. Best decision ever.

After the release of her first group of dates in the Uk, Britney has received unprecedented demand for tickets. She is going to be performing 21 of her smash hits this includes 2 surprise songs

You can certainly see your enthusiasm in the work you write. The world hopes for more passionate writers like you who aren't afraid to say how they believe. Always follow your heart.

Hola, interesante post, sigue escribiendo nuevos posts porque a partir ahora ya posees un nuevo y atento lector.

A pity, but I dispute with this unique blog post. I actually do like your particular website though and will likely keep on moving again for the latest.

Excellent post at Chinese Movie Database Blog » Blog Archive » Review: How is Your Fish Today?. I was checking continuously this blog and I am impressed! Extremely helpful info particularly the last part :) I care for such info a lot. I was looking for this certain info for a long time. Thank you and good luck.

Fantastic Stuff, do you have a youtube profile?

Wow, incredible blog layout! How long have you been blogging for? you make blogging look easy. The overall look of your website is fantastic, as well as the content!. Thanks For Your article about Chinese Movie Database Blog » Blog Archive » Review: How is Your Fish Today? .
Leave a Reply