Two Chinese films have entered official competition of 57th Berlin Film Festival which will be held the second week of Febuary 2007.
Tuya's Marriage (图雅的婚事 tu2 ya3 de hun1 shi4), directed by Wang Quanan (王全安), is about a woman named Tuya in the northern rural China tries to find a new husband who can allow her to continue to support her current, disabled husband.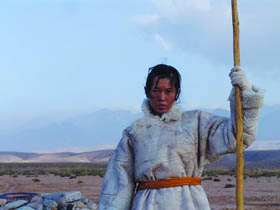 While Lost in Beijing (苹果 ping2 guo3), directed by Li Yu (李玉), tells the story of several characters in this huge metropolis, starring Tony Leung Ka Fai (梁家辉) and Fang Bingbing (范冰冰). The director said she has to hurry up the post-production in order to show it at Berlinale.
Another Chinese director, Zhang Lü (张律) directs a South Korean-France co-production Hyazgar (Desert Dream). His previous work, Grain in Ear (芒种), is international acclaimed.
Leave a Reply