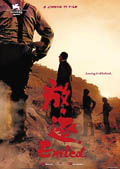 Two of Johnnie To's films, Exiled (2006) and PTU (2003), are both in the theatrical release in the UK. Exiled (2006) has received wider release, while PTU (2003)'s release is very limited.
The reviews in British newspapers about Exiled (2006) is generally good. The Telegraph thinks it's "a much better showcase for his (Johnnie To's) talents than the overrated Election". The Guardian praises it as "a sharp, shrewd thriller with a bracing touch of political stire". However Independent on Sunday says it's "just a pretext for some iconic compositions of men posing with guns and cigars."
Meanwhile, BBC Radio Five Live's film critic Mark Kermode said in the film review programme that PTU (2003) is his Film of the Week.
The DVDs of both films should be available in the UK soon.
3 Responses to "Exiled and PTU released in the UK"
Re: Whoever made the remark that this was an excellent web site truly needs to possess their brain looked at.

That's where quick payday advances can help take care of Xmas, 1st birthdays as well as wedding anniversaries, they may be short-term loans — eventually to some calendar month - and with regard to little bit of money : coming from around £100 to be able to £1000. They can be applied for straight on the internet and can end up being transferred directly into your bank account about the same day time since your application.

Die Lacedaemonier, heisst es, haetten die Salbenhaendler und die Faerber ausSparta verjagt, weil kreditvergleich online thtliiljjy kreditvergleich kreditvergleich http://meinkreditvergleichonline.de vegetabilischen Stoffen, faulenKartoffeln, Moehren, Rettig und verschiedenen Pilzen, seltener von faulendenanimalischen Koerpern (todten Schnecken).
Leave a Reply